Life Supporting Ventilation with High Flow Oxygen Therapy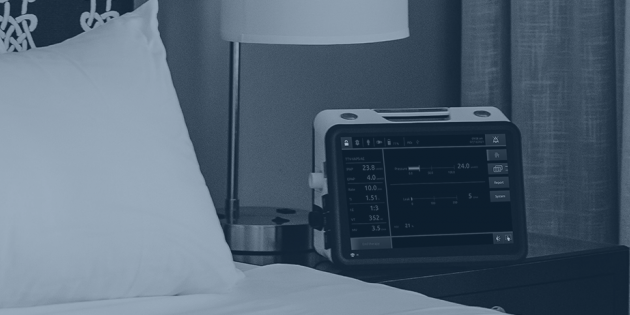 The LUISA® home ventilator is a 3rd generation life-supporting ventilator for the home, and it is PDAC approved for invasive and non-invasive ventilation therapy billed under the codes E0465 (invasive) and E0466 (non-invasive).
For those that meet the requirements of home ventilation LUISA incorporates two home-based respiratory treatment options in one device. It provides all the standard ventilation modes, including a TTV-VAPS-AE mode, with the added benefit of High Flow Therapy designed for better patient care and comfort.
The TTV-VAPS-AE mode offers unique comfort settings designed for improved patient compliance like:
Sensitive Inspiratory and Expiratory Triggers: Triggers can be set very sensitively due to Inspiratory Lockout Time.
Sensitive triggers decrease patient work of breathing and increase patient-ventilator synchrony.
Inspiratory Lockout Time: Allows the patient sufficient time to exhale completely and minimizes false triggers.
Three Target Volume Speeds: Fully adjustable target speeds respond gradually to patients who are sensitive to
pressure changes, or quickly to patients whose clinical condition warrants more rapid response.
Pressure Drop: Allows setting the rate of decline from IPAP (inspiratory pressure) to EPAP (expiratory pressure.) When
prolonged, this setting increases mean airway pressure, which may provide oxygenation benefits for some respiratory
patients.
Flow-Based Algorithm: Flow-based auto-EPAP algorithm allows effective treatment of upper airway obstruction
without repeated oscillations, which prioritizes patient comfort.
Auto-Rate Algorithm: A smart algorithm that factors in both the patient's actual respiratory rate and their minute
ventilation averages over the night. This allows LUISA to provide support only when necessary, rather than breathing for
the patient and causing decreased patient-ventilator synchrony.
With a combination of unique features and low cost of ownership, LUISA affords you a reliable option for your physicians and their patients.
                Contact us to learn more about LUISA and competitive pricing, please fill out the form below and we will get back to you.
The LUISA has been authorized by the FDA under an EUA but has not been FDA cleared or approved. The LUISA is authorized only for the duration of the declaration that circumstances exist justifying the authorization of the emergency use under section 564(b)(1) of the Act, 21 U.S.C. § 360bbb-3(b)(1), unless the authorization is terminated or revoked sooner. U.S. federal law restricts this device to sale by or on the order of a physician.