Benefits of NIV for COPD patients
COPD remains a leading cause of hospital admissions and mortality even with patients receiving multifaceted treatment approaches. Some examples of these approaches are inhaled bronchodilators and steroids, pulmonary rehabilitation, supplemental oxygen, and smoking cessation.
The initiation of home NIV may favorably impact readmission rates and mortality in patients with severe COPD and chronic hypercapnia.¹
Recent studies of NIV at home in the United States show that NIV at home is associated with:
Reduced risk of hospitalization by 28%²
Reduced risk of hospitalization readmission by 50%³
Reduced risk of mortality by 64%⁴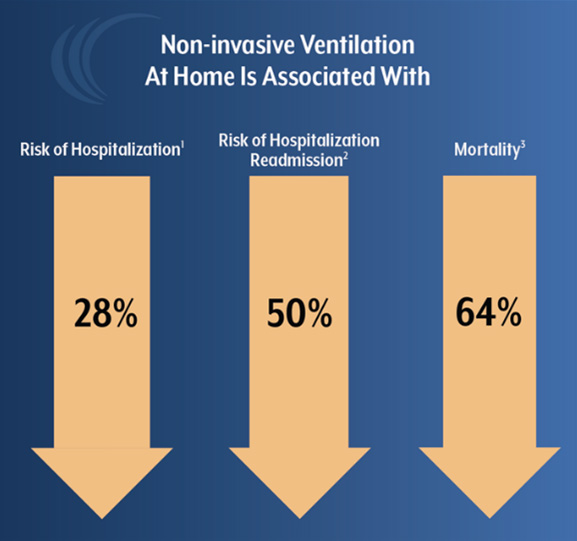 To learn more about the benefits of at-home ventilation in adults with COPD, listen to a recent webinar from experts Nicholas Hill, MD and Melissa Vriseno, BAS, RRT.
Contact Movair to learn more about the LUISA ventilator or request the slides from the "Exploring the Benefits of At-Home Noninvasive Ventilation in Adults with COPD" webinar.
Coleman, J. et al. Noninvasive Ventilation in Chronic Obstructive Pulmonary Disease. Ann. American Thoracic Society. September 2019.
Frazier, W. et al. NIV at Home Improves Survival and Decreases Healthcare Utilization in Medicare Beneficiaries with COPD with Chronic Respiratory Failure. Respiratory Medicine. December 2020. Vol. 177.
Suh, E. et al. Home Mechanical Ventilation for Chronic Obstructive Pulmonary Disease: What's Next After the HOT-HMV Trial? Respirology. 2019. (24) 732-739).
Elliott, M. Domiciliary NIV for COPD: Where Are We Now? The Lancet Respiratory Medicine. July 2014.